After arriving at the Toothman farm during the late afternoon of Monday, October 27, 1862. Captain Seaman questioned the Toothman women and dispatched his attached cavalry scouts down towards Hog Island some two miles distant. None of the Toothman men were at home. John was a prisoner at Fort Lincoln having been implicated in Bushwhacker activities in Bates County, including the ambush of a 1st Iowa Cavalry forage party at the ford of the Fort Scott Road over the Miami Creek on May 15, 1862. It is not known where Enoch and his other son, Josephus, were.

Based on intelligence from his cavalry scouts and information from the Toothman women, Captain Seaman realized that he was facing much more than a gang of Bushwhackers on Hog Island. In fact, he believed that the rebels numbered some 400 men "all splendidly mounted" and were comprised of rebel Colonel Vard Cockrell's command, Dick Hancock's outfit, as well as Bill Turman's Bushwhackers.

Seaman commandered the Toothman home and dispatched riders back to Kansas for reinforcements. The farm's heavy split-rail fences were torn down to erect a hasty barricade around the house, and someone ran up the flag of the United States over the structure and defenses, which the African American troops dubbed Fort Africa.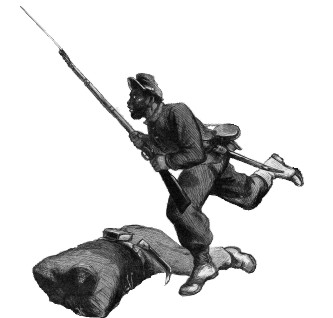 Pickets were placed out as the officers and men settled in for an undoubtedly tense but uneventfull night at the Toothman farm.

The next morning dawned to reveal that the rebels had taken up positions on the mounds to the south and southeast of Fort Africa. The entire day was passed by the command in intermitent skirmishing with the rebels, but with little result due to long ranges and a heavy wind. With no sign of reinforcements from Kansas, Seaman's men prepared to spend one more night in enemy territory.

By the morning of Wednesday, October 29, 1862, the command at Fort Africa was running low on supplies. With still no sign of reinforcements from Kansas a forage party was detailed to go in search of corn meal and salt while a diversion force kept the rebels occupied. The diversion force skirmished with the enemy until the foraging was completed and returned to camp.